Shawn - Band Manager, Singer and Guitar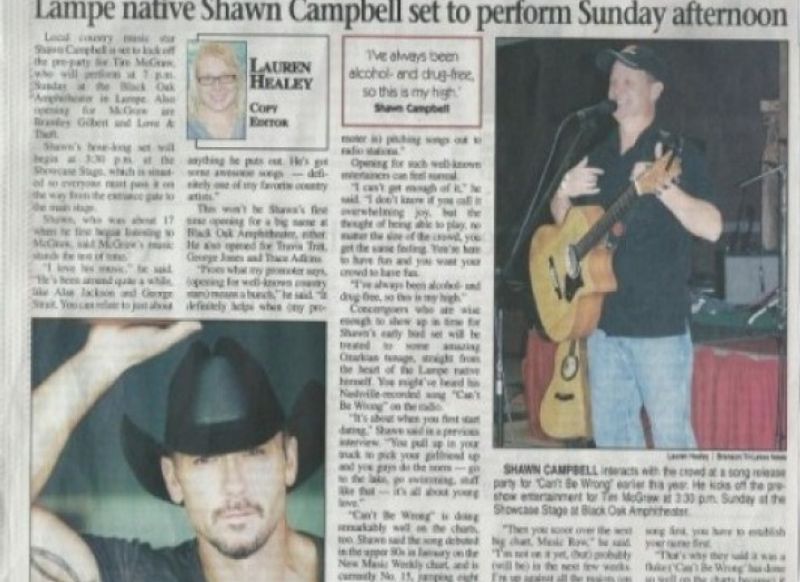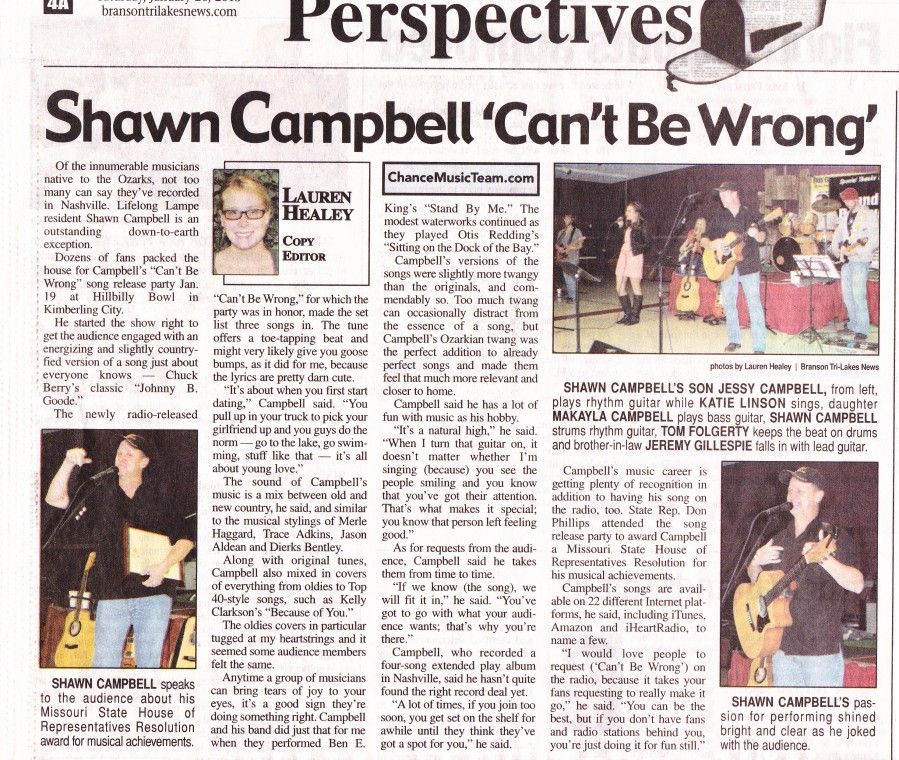 The
Album, "Can't Be Wrong", is a mix of songs that talk about life, love and all the stuff along the way of falling in and out of love hope you enjoy the songs and maybe they might remind you of a place and time in your life.
Produced by : John Nicholson
Lead Singer- Shawn Campbell; Duet & Back-up Singer - Marcia Ramirez; Back-up Singer - Monty Allan;
Bass - Jimmy Carter; Acoustic guitar- Kevin Williams; Lead Guitar - Kelly Back; Drummer - Wayne Killius;
Piano - Dirk Johnson;
I have been blessed to get to do the shows and meet people and play with some great musicians and Artist along the way
and I appreciate all the support from everyone. May your dreams and wishes come true.
thanks Shawn

Shawn put together THE BAND RESCUE a group based around Southwest MO. Area.
A very well Known band by their fans, friends, neighbors, and family.

Shawn had landed some big shows with his band Rescue PRE-SHOW'S & OPENER'S for some very big name's such as Travis Tritt, Tanya Tucker, George Jones, Jason Boland, and even the rapper Nelly.
They have opened for the Mansion, Grande Palace, Chateau, Ozark Empire Fair, Roaring River Theater, 107.1 Radio, Colgate Show Down, Pine Mountain Theater, All-American Weekend, Crossover, Black Oak Amp Theater, PFI/PBR, Bonnie and Clyde, Ice Cream Social, just to name a few and many more along with a lot of fundraisers.

Shawn recently got the chance to go to Nashville and record with one of the top Producers John Nicholson who has worked with some of the biggest names in country music.
These are just a few of the names who have recorded in his studio. Dobie Gray ,Crystal Gayle,Sonya Isaccs ,The Jordinaires ,Tracy Lawrence ,Alan Jackson ,Vince Gill ,Vern Gosdin Jim and Jessie ,Skip Ewing ,Johnny Cash , Jeannie Seely, Crabb Family, Isreal Houlton, Ronnie Reno, John Hartford , Trace Adkins , Kelly Lang , Gene Watson, Ray Price, Merle Haggard, Marty Stuart, David Frizzell, Pat Boone, MikeSnyder , Dolly Parton , Johnny Russell , Buck Owens , BJ Thomas , Robinella and the CC String Band, Doug Stone, Del McCoury , James King Band , Lorrie Morgan , Little Jimmy Dickens , Michael Cleveland , Eddie Rabbitt, J.D. Crowe, Alison Krauss, Debra Allen , The Osborne Bros., Claire Lynch , Porter Waggoner
Bonnie Bramlett , Bill Monroe , Nancy Griffith , John Conlee, David Allen Coe, Dale Ann Bradley , Mandy Barnett, Danny Shirley , Lynn Anderson , Daryle Singletary , Billy Walker, Loretta Lynn , Ricky Skaggs, Bill Anderson
TG Sheppard even Jerry Springer!

Jimmy Carter- Done the Bass on the recordings in the studio for the CD. He has played at a popular nightspots in Nashville behind top names like Vince Gill, Reba McEntire, Jerry Lee Lewis, John Cougar Mellencamp, and Randy Travis.
He has also worked in the studio with other artists such as Toni Braxton, Nancy Sinatra, Alan Jackson, Dierks Bentley, George Jones, Jerry Lee Lewis, Tim McGraw, Peter Gabriel, Richard Marx, Peter Frampton, Clay Walker, Delbert McClinton, Merle Haggard, Gaither Vocal Band, The Lost Trailers, Kenny Rogers, Ricky Scaggs, Ray Stevens, Oak Ridge Boys, Marty Balin (Jefferson Airplane), Crystal Gayle, T. Graham Brown, Michael English, B.J. Thomas, Travis Tritt, Wayne Newton, Steve Cropper, Lorrie Morgan among numerous others.

Marcia Ramirez - AS backup singer and duet on the songs. She has worked with include Patty Loveless, Rodney Crowell, Pam Tillis, Tanya Tucker, Lee Ann Womack, Billy Dean, Bill Anderson, Linda Davis, Jason Sellers and Deborah Allen. She has wrote songs for other artists, including Jo Dee Messina, The Whites, Rachel Williams, Lisa Hendrich, Sonia Lee, Chelsee Oaks, and Britt Savage.

Monty Allen- Has been Backup Singer for Allen Jackson for years in the Strayhorns band and is in high demand as a studio vocalist and is an amazing song writer.

Wayne Killius .
Session Drummer / Songwriter / Producer Wayne Killius has performed and recorded with major artists including Big & Rich, Jeff Bates, Aaron Tippin, Blake Shelton, Neal McCoy, Guy Clark, Lonestar, Michelle Wright, Toby Keith, Kenny Rogers, and many more. His complete discography runs to more than 100 releases, with drumming credits on such major hits as Horse of a Different Color and Comin' to Your City by Big & Rich.

Kevin Williams - Acoustic guitar Kevin has played w/Gaither Family, Toured with Wendy Bagwell & The Sunliters and has 2 decades in gospel music, more than 600 recordings and hundreds of live appearances.

Kelly Back - Lead guitar is Nashville's guitar hero. He has played on more Christian, Country, and Gospel projects than most guitarist.

Dirk Johnson - piano He has recorded with/produced or played with many great artists either on television, records (CDs) or stage; the list of artists reads like a 'who's who' of country music & include Alan Jackson, Dolly Parton, George Jones, Clay Walker, Buddy Emmons & the Swing Shift Band, Joe Diffie, Steve Wariner, Alison Krauss, Keith Whitley, Shania Twain, Diamond Rio, Terri Clark, John Conlee, Toby Keith, John & Audrey Wiggins, Rhonda Vincent, Jerry Reed , Johnny Paycheck , Trisha Yearwood, Brooks & Dunn, Billy Currington, Jo Dee Messina, Lee Ann Womack, Vince Gill, Larry & the Gatlin Brothers, TG Sheppard, BJ Thomas, Ricky Skaggs, The Whites, Gene Watson, Ray Price, Faron Young, Dottie West Allen, Deborah Allen, Clinton Gregory, Eddie Rabbitt , John Anderson, Brent Mason, Aaron Tippin, Darryl Singletary, Ken Mellons, Eddy Arnold, Sonny James, Wesley Dennis, Lisa Brokop, Charlie Rich , Connie Smith, Marty Stuart, Charley Pride, Little Jimmy Dickens, Jeannie Seely, Mark Wills, Marty Raybon, Roy Acuff , Bill Anderson, Lynn Anderson, Crystal Gayle, Keith Stegall & Jerry Douglas.
I want to think all the artist , muscians and producer John for making this the one of the best times in my life I could ask for and for all the time they spent to make this a great album and for being so nice and down to earth they a great bunch of people and I look foward to working with them again.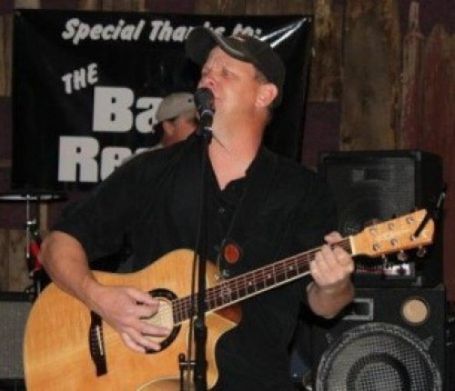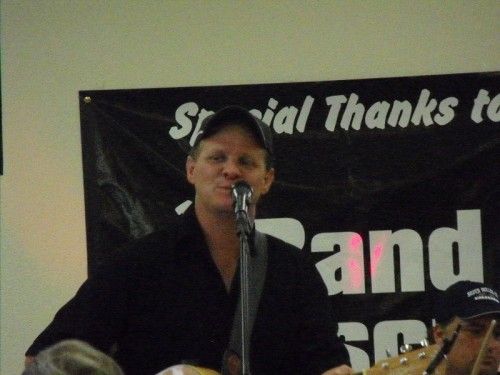 Shawn Campbell
Just recorded his 2nd Nashville Cd-
New Songs: This Old Road, Think About ,  You drive me crazy,  Love at first sight
Think about you hit #4 on Country Main Chart  New Music Weekly and  #4 country Top 30 Indie Artist 
Produced By the Legendary Dirk Johnson and singed with Nashville Record  label "Dirkworks Production"
Shawn Campbell - Can't be Wrong
 Falling in Love Again, Love at First Sight, Can't be Wrong.
The Band Rescue - Coming Home
Kevin Parton - Ranger Texas